About us
Welcome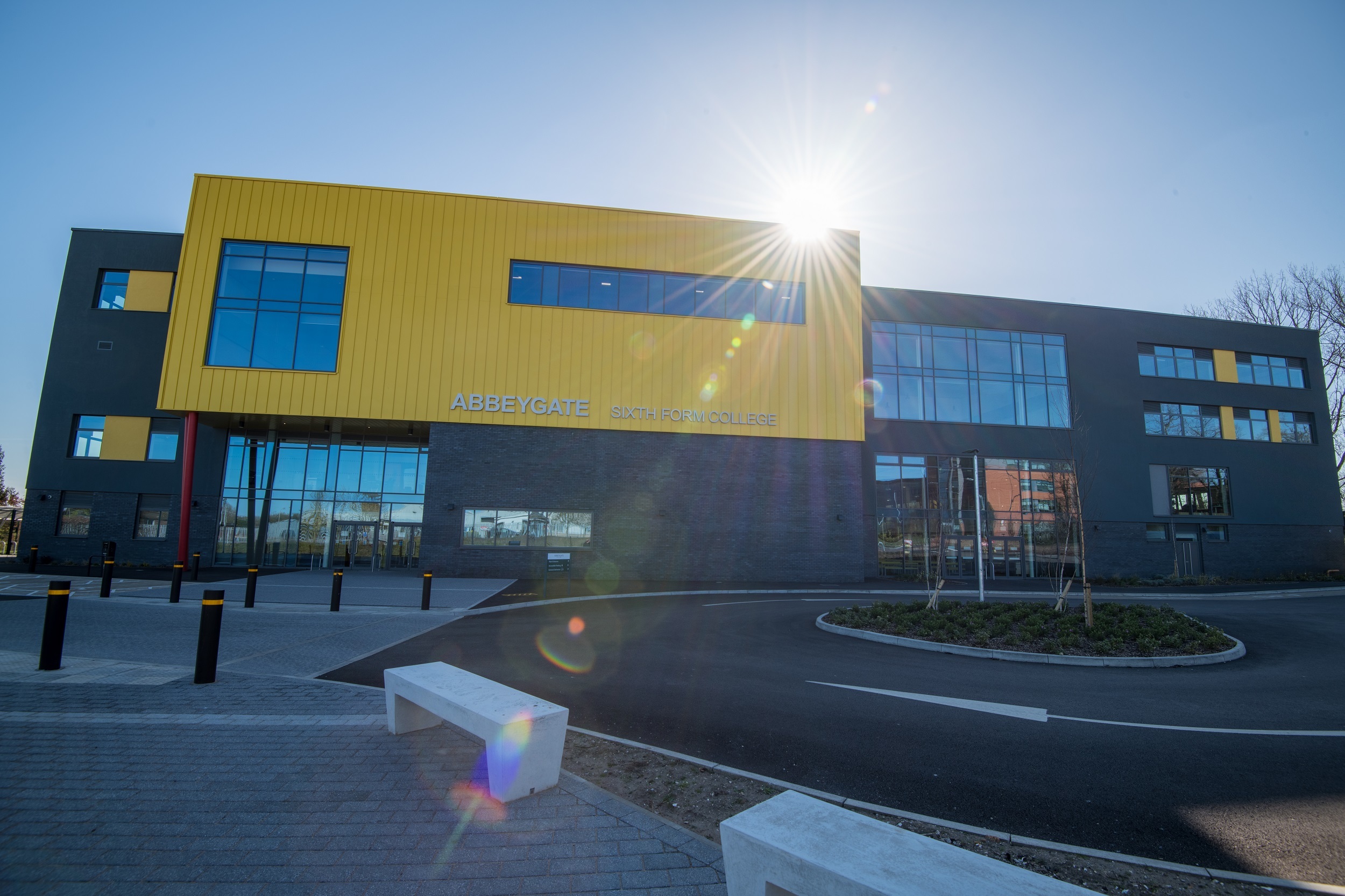 Studying A Levels is enjoyable, it is a time where you develop a deep interest, knowledge and enthusiasm for your chosen subjects. As you decide on your next steps I am delighted that you are considering Abbeygate Sixth Form College. This is a really exciting time for you and a great opportunity to really focus on the subjects you enjoy and want to learn more about. Abbeygate Sixth Form College is an amazing place to study. Our modern, safe, bright and spacious state of the art building has been designed and built for you. Every aspect of this incredible building has been designed specifically for our A Level students and we have industry standard facilities and resources in every subject area, I would encourage you to visit at one of our open events or have a look on the virtual tour.
We have a range of social and study spaces throughout the building so you can work individually, in peace and quiet, or in groups when preparing for presentations or researching topics. This is all part of a quality sixth form experience that will prepare you well for your future.
At ASFC we have amazing teachers who provide high quality lessons that are engaging and enjoyable that will provide you with the knowledge and understanding you need to be the best you possibly can. Because we are a Sixth From College all of our teachers focus solely on teaching A levels and they are specialist in their chosen subjects; they will enthuse you, support you and give you the opportunity to flourish. We all need help and support at different times in our lives and our hugely committed pastoral team are there to support you every step of the way. They are here for you throughout your sixth form journey and will be your supporter, to provide the care, advice and guidance you need, when you need it.
A Sixth Form College is about more than just examination results, it is about broadening your horizons, adding to your cultural capital and providing you with a range of opportunities and experiences that will better prepare you for your future. The additional opportunities programme at Abbeygate Sixth Form College offer is extensive and one that changes and adapts every year. We know that Universities and employers are looking for more than just grades and we know the benefit of participating in a range of activities so I would encourage you to participate and even bring your own new ideas to the College.
I hope you choose to come to Abbeygate. A College that provides incredible teaching, pastoral and welfare support when you need it and a range of opportunities that you deserve that will support you on your next steps. I look forward to meeting you soon.
Best wishes
David Gartland, Principal
Eastern Colleges Group
Our vision for the Eastern Colleges Group is simple. In an ever-changing world, we deliver a world-class, inspirational life-long learning journey that drives prosperity and wellbeing for all in our communities.
Leadership team
Click here to view our leadership team
Governance
Click here to view our Governors
Eastern Colleges Group
Suffolk Academies Trust
Click here to go to the Suffolk Academies Trust website
Founding partners
Abbeygate Sixth Form College was been developed by Suffolk Academies Trust, a partnership between One Sixth Form College in Ipswich and West Suffolk College in Bury St Edmunds.



The Trust is working in collaboration with Abbeygate's four founder schools on all aspects of the project.




Ofsted