Travelling to College
Apply for a college bus pass
Parents, guardians or carers need to be the ones who book and pay for bus passes. If you've not yet received your invitation link, please email eeg@ridekura.com
The college runs dedicated bus routes to and from:
Soham
Haverhill
Diss
Brandon
Manage and update your payment methods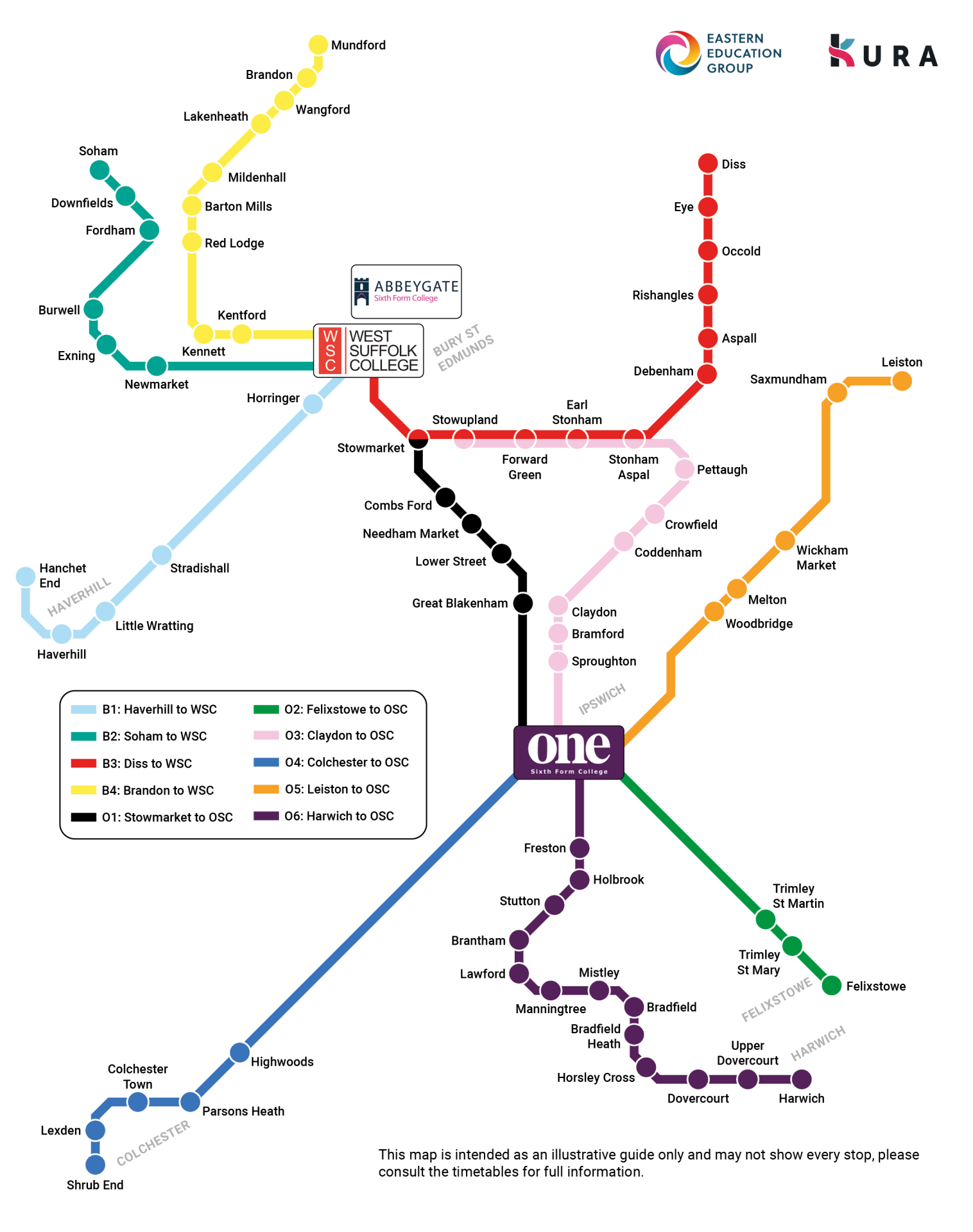 Eastern Education Group Transport Survey
The Eastern Education Group is continually reviewing the dedicated bus routes that serve Abbeygate Sixth Form College, One Sixth Form College and West Suffolk College. To help us assess the demand for student transport in different towns across the region, please complete the form below. Your insight is really appreciated.
Other bus tickets, public services and discounts
Bus routes and applying for a college bus pass
There are a number of publicly available bus routes which provide easy access for students from a wide area. Please refer to www.suffolkonboard.com for more details. Some of the commercial companies who provide the bus services on behalf of Suffolk County Council offer their own discounts and travel passes for students:
Public bus routes
Endeavour Card
Are you aged 16-19? If so, with a cashless Endeavour Card you can get at least 25% discount off full price adult fares on participating bus services.
It is for anyone aged 16-19 in full time learning or work with training

25% discount with most bus services in Suffolk (e.g. Connecting Communities)
The card is free and will include a picture of you and your date of birth
Cashless card that can be topped up electronically via endeavour.suffolkonboard.com
Train
Bury St Edmunds has a train station, which is a 20 minute walk from the main college campus.
For more information on routes, please click below:
Help with train travel costs
There are two rail cards which are available to our students, to help with travel costs:
The 16 - 17 Saver card is £30 and is valid for one year or until your 18th birthday, whichever comes first. As a card holder you can enjoy 50% off standard anytime, off-peak, advanced and season rail tickets helping you save money on trips into town, days out to the coast, travel to college or weekend festivals - as many times as you like. Find out more and how to apply at www.16-17saver.co.uk
The 16 - 25 Railcard can save you up to 1/3 off a wide range of tickets, along with days out, restaurants, hotels and much more. Find out more and how to apply at www.16-25railcard.co.uk
Walk
The main campus is a ten minute walk from the centre of Bury St Edmunds, on the road leading to Newmarket (A14).
Cycle
We encourage all our students and staff to lead a healthy and active lifestyle and where possible, to cycle to college. We have a number of covered places across the campus, where you can keep your bikes secure.
Suffolk County Council offers information on cycle routes within suffolk, and you can also plan the safest journey on cyclestreets.net. For details on how to download the CycleStreets app, visit cyclestreets.net/mobile
Cars, Motorcycles and Scooters
Parking facilities are available at the campus. Parking at Abbeygate Sixth Form College is currently free and a permit can be obtained from Reception.
Travel Costs Assistance
Suffolk County Council may offer assistance with travel arrangements through the council's Post 16 Discretionary Travel Scheme. Further details and how to apply can be found on Suffolk on Board.
Alternatively Abbeygate Sixth Form College may be able to assist students through the 16-19 Bursary Fund available by application and eligibility is dependent on personal circumstances.
Please be aware that financial support is dependant on government legislation and is therefore subject to change. Whatever your circumstances, you can always consult with us before applying for any course.
Apply for a College BursaryPlease click the links for details on how to apply for travel assistance from the following county councils: