Life at Abbeygate
Clubs form an important part of College life. You will come to Abbeygate to learn and to achieve but, as you already know, there is much more to life and learning than passing exams. We know that the students who really enjoy College life are those involved in a plethora of enrichment activities. Having a sense of perspective is key. Enrichment activities can serve both your local community and your UCAS application, but they also provide an opportunity to make new friends, learn new skills and to relax and have fun, all of which can help you improve your results. These are just some of the enrichment activities available at Abbeygate: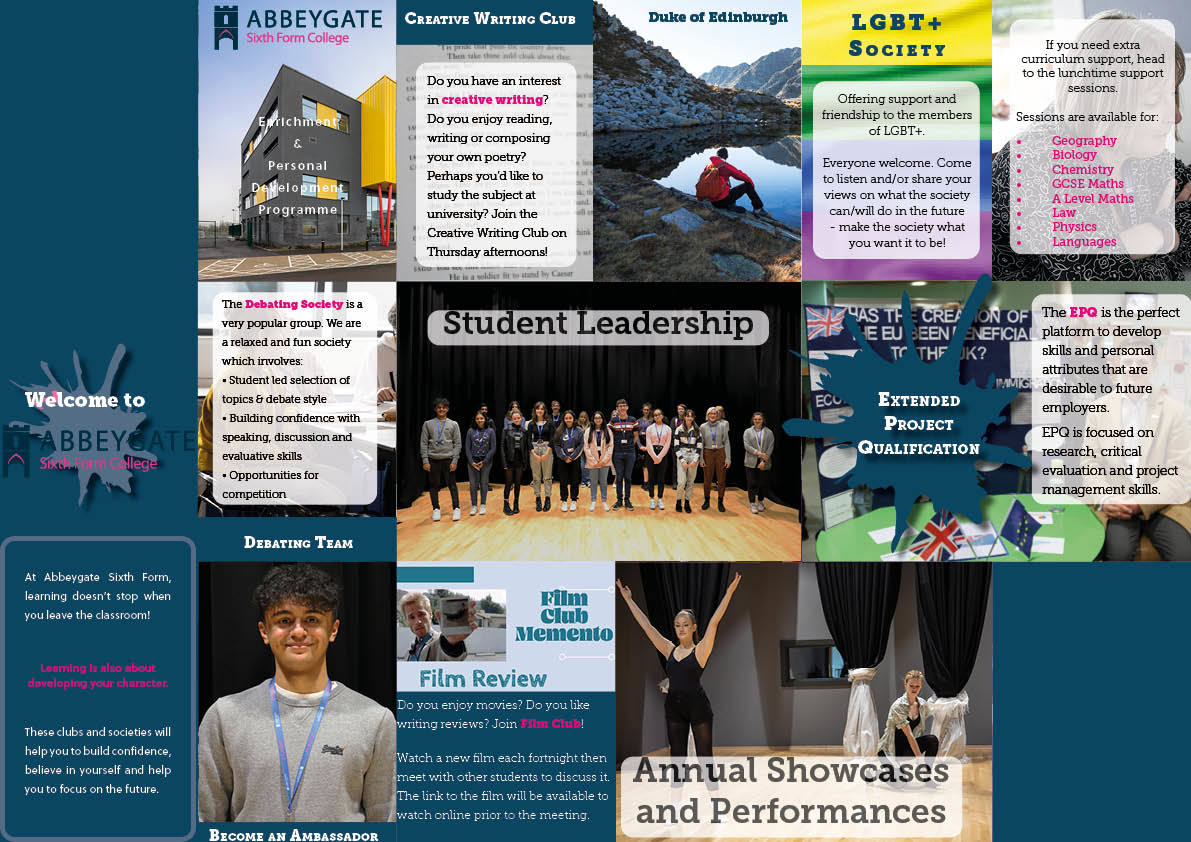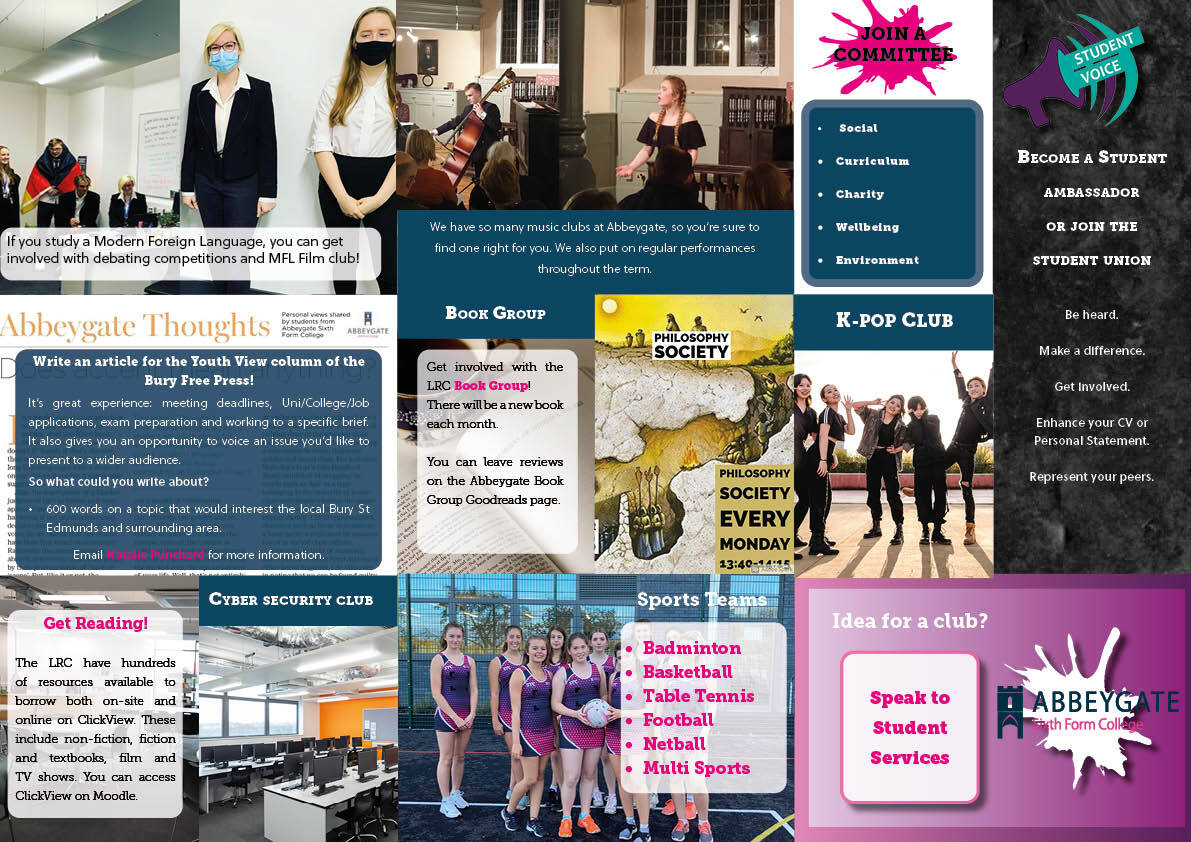 The diverse clubs and societies at Abbeygate extend and enrich the curriculum, with something for everyone. You don't have to be studying the subject to take part. From established groups such as Dungeons and Dragons, LGBTQ+, Politics and Debating, to subject specific activities such as Astronomy and Creative Writing.
See an example of our Extra-Curricular Timetable here: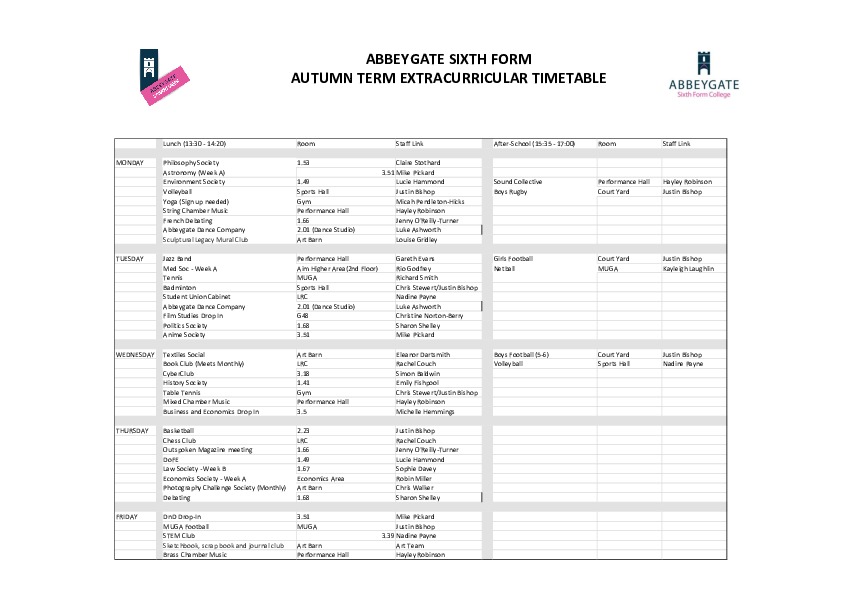 We encourage our student to take the lead so if you think there is something missing, we will work with you to set up a club to support these interests. You will meet students with similar interests, share ideas and gain new skills. Leadership is something that has to be recognised, supported and guided. There will be a range of opportunities available to give you the chance to lead a part of Abbeygate life, and to work closely with some of the College's senior staff members. See our Student Leadership page to find out more
Societies and Clubs Fair
Want to find out more about each club? Not sure what's involved in joining a club or society? Don't worry, we will hold a fair at the beginning of the academic year so you can meet other students and discover what's involved.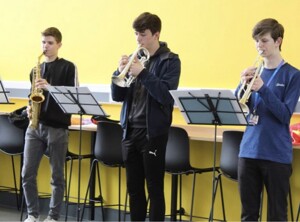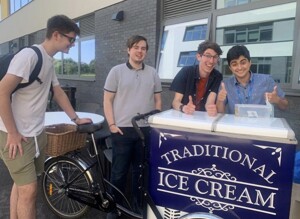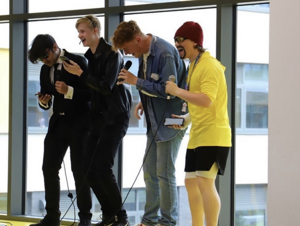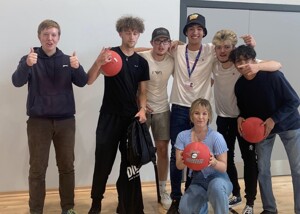 Links with employment
The Sixth Form's partner, West Suffolk College, has a long-proven track record of successful partnerships and collaboration with industry and currently works with over 1700 employers and businesses. Students Abbeygate Sixth Form have access to the benefits these business partnerships provide, such as work placements, specialist facilities, speakers and mentoring.
Working on real projects will bring context to academic learning and ensure that students not only achieve high academic qualifications but insight and experience of working with industry partners, ensuring they attain an edge for university and employment.
Other additional opportunities
Students have the opportunity to get involved in a number of different projects through out the year. Here are just a few examples of things our students have been up to:
In the press
Bury Free Press student columns
British Sugar/Zeiss Challenger Project
Radio Suffolk: 20/02/2021
Abbeygate student and Wellbeing Committee Student Chair, Harvey Tilley, was invited to speak on BBC Radio Suffolk on 20/02/2021 to discuss student mental health and the importance of wellbeing groups in Sixth Forms.
Interviews
Harvey Tilley interviewed BBC Clinical Psychologist Dr Hazel Harrison about all things mental health and wellbeing. Dr Hazel answered questions on the representation of mental health in the media, the stigma surrounding mental illness, and provided tips on how we can look after those around us and ourselves during lockdown.
UK - Japan Science Exchange Workshop Podcast
Students from Abbeygate Sixth Form College, other colleges across the UK and Japan came together for a week of remote learning, finding out about cutting edge science while also learning more about Japanese and British culture. Working with the Naked Science Team in Cambridge, one group was tasked with learning about science communication, and making three mini podcasts about science. Their podcasts would explore the science being taught in the other groups, and how their peers were faring with the experience. Here is the third of these podcasts, about the myths of the asteroid that wiped out the dinosaurs and the Chernobyl nuclear accident. This podcast was made by Isaac Todman, Kaho Hashimoto, and Madi Payne.
BT Hothouse Challenge - 5 March 2021
Twenty-two Abbeygate students took part in an innovative BT Hothouse Challenge on Friday 5th March 2021. The challenge involved students collaborating on future solutions to problems that we face - for example, climate change, health and global food distribution - using Artificial Intelligence (AI). Alongside presenting on the various uses of AI, the students learnt about careers in the sector, took a virtual tour around the innovation centre at Adastral Park and discovered the future technologies the team are working on.