Careers
We will make sure that you have all the advice and guidance you need before you decide your next steps after Sixth Form.
1:1 careers interviews with our Careers Advisor
Links with universities offering subject tasters, events and open days
Higher Education Conference
Help with UCAS applications and personal statements
Support with CV writing through the tutorial programme and 1:1 meetings with your Personal Progress Tutor
EEG Student Finance Online Event for Parents 2023
On 30 March 2023 the Eastern Education Group (made up of West Suffolk College, Abbeygate Sixth Form College and One Sixth Form College) hosted an evening for parents/guardians aimed around Student Finance for University.
A recording of this live event can be found below:
EEG Next Steps Progression Event 2022
On 18 October 2022 the Eastern Education Group (made up of West Suffolk College, Abbeygate Sixth Form College and One Sixth Form College) hosted an evening for parents/guardians aimed around the general options available to their young people after they complete their time with us.
A recording of this live event can be found below:
Apprenticeship PowerpointGap-YearPreparing for UniversityStudent FinanceConsidering Employment

Please also find information here on the UCAS process for 2023, including how to apply, key dates and what you can do to support your young person through the process of applying for university.

Apprenticeships (including Degree Apprenticeships)
An Apprenticeship is a fast track was of getting on in your career. You will have a paid job while working towards a qualification in your industry area.
Five reasons to consider an Apprenticeship
You earn a wage from the start
Apprentices earn a real salary and training fees are supported by the Government and your employer.
Training is tailor made to suit your role and direction
The choice of Apprenticeships are huge. You can develop a pathway that matches your careers ambitions and suits the needs of your employer
Gain essential workplace experience
An Apprenticeship will put you a step ahead of other job hunters as you will have both the qualifications and the experience allowing you to progress your careers faster
Take giant steps up the career ladder
While on an Apprenticeship you will gain the skills, experience and contacts needed to reach your goal faster
Improve your prospects
Employers say that qualified Apprentices are 15% more employable than those with other qualifications
Where to search for an Apprenticeship
University
After their time at Abbeygate, many of our students progress on to Degree courses at a wide range of Universities, as far north as West Scotland, as far south as Falmouth on the South West Coast, and everywhere inbetween!
Students receive a wide range of support around University, ensuring that they know all opportunities available to them, as well as feeling prepared in making a strong application. This is through experiences, advice and guidance throughout year 12 and 13.
Some of the University support on offer includes;
"Abbeygate HE Day" Universities are invited in to college where they host multiple workshops for our students to attend!
Personal Statement support
Guidance on university course choices
Student finance information events and drop ins
Trips to Universities
Subject specific university talks
UCAS Application Walkthrough 2023
UCAS
UCAS is the Universities and Colleges admissions service, and manages applications for universities. UCAS is also designed to help you explore your options, and the UCAS Hub is a useful free tool to make it easy for you to weigh up the pathways available and make informed decisions.
Find out more about the UCAS hub here;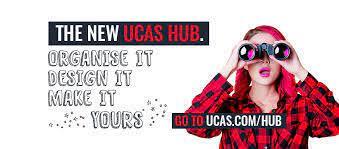 Useful links
UCAS subject guides can help you to see what types of courses are available within your favourite subject - Explore | UCAS
How to choose the right course - https://www.ucas.com/undergraduate/what-and-where-study/how-choose-right-undergraduate-course-you
UK Universities – League tables - https://www.theguardian.com/education/ng-interactive/2022/sep/24/the-guardian-university-guide-2023-the-rankings
https://www.thecompleteuniversityguide.co.uk/league-tables/rankings
Student Finance England's "Everything you need to know about Student Finance" guide - 2023 to 2024: It's time to apply for student finance - Apply now for 2023 to 2024!
Degree Apprenticeships VS University - https://ultimateguides.ucas.com/traditionaldegreesvsdegreeapprenticeships/
Personal Statements - https://ultimateguides.ucas.com/writingapersonalstatement/
Remember, for competitive universities your Personal Statement must be at least 80% subject specific and related to your academic studies! See our "Supercurricular guides" in the Aim Higher Programme section.
Questions?
If you have any questions relating to university, you can get in touch with your PPT, who can help you, either themselves or by directing you to other staff within the college if you need more specific support!
Career and Progression Newsletters
Our Abbeygate Sixth Form: What's On Wednesdays newsletter covers all progression routes and careers information around Apprenticeships, Work Experience, Job vacancies, University, Understanding the Job Market, and other progression/ career events at Abbeygate
If you are aspiring to gain entry to one of the top Universities in the country and/or considering studying locally with University Studies at West Suffolk College, the Aiming Higher at Abbeygate Sixth Form newsletter has loads of advice on Open Days, Events and support at Abbeygate, application and deadlines and resources that might help you and more.
Please click on the links below to access up to date information and remember to check back every Wednesday.
Aim Higher Programme
The Aim Higher Programme (AHP) at Abbeygate Sixth Form College is designed to ensure our students are supported and prepared for making an application to highly competitive Universities, with a particular focus on Early Entry courses including Oxbridge, Medicine, Vet Med and Dentistry. These courses include a multi-factorial admissions process that is renowned for it's competitiveness and have an earlier deadline that students need to meet.
The programme aims to demystify the various aspects of the Early Entry application process, and give students the tools to not only feel confident in their understanding and preparedness of the stages they will go through, but also how to make their application as strong as possible.
High achieving students will be invited to join the Aim Higher Programme, where they will be offered the opportunity to attend lunchtime workshops and presentations, hear from guest speakers, sign up to relevant email mailing lists created by our Aim Higher Manager, and be offered one to one support and guidance throughout the process.
Example topics covered within the Aim Higher Programme include;
Understanding the application process for Oxbridge, Medicine, VetMed and Dentistry courses
Choosing the right course, and right university, for you
The importance of super curricular and work experience
The importance of your "5th choice"
Writing a competitive personal statement
Preparing for Interviews
Preparing for Admissions tests
We also have an Aim Higher Newsletter which signposts our students to external events, activities and resources that will benefit their application journey. You can view our Aim Higher Padlet via the link below;
The AHP is complemented by subject specific talks and presentations, and curriculum advice and guidance. We also have a fantastic range of clubs and societies on offer at Abbeygate, that our Aim Higher students are encouraged to be a part of.
If you have any questions about the Early Entry admissions process, or our Aim Higher Programme then please contact Rio Godfrey, the Aim Higher Manager by clicking on the box below
Please click here to make an enquiry regarding the Aim Higher Programme
Career Planning and Labour Market Information
Our new Career Coaching tool (EMSI) allows you to explore careers and how best to pursue that aspiration using what we call Labour Market Information or LMI.
It can also help in guiding you to the most suitable pathway based of your interests and strengths- do an assessment, view your matches, explore the careers and find the right programme of study at the college. Take it a step further by creating an account to build your CV and send directly to employers.
Below are some other useful links to help you plan your future after Abbeygate:
Prospects: Planner | Job Profiles
National Career Services – National Careers Service you take the next step, CV builder, action planning. Courses and learning
UCAS – University and colleges application service
UCAS Widget – Advice and guidance to parents
Discover Uni – Key information for comparing UK Higher Education Course data
The Source – Help and advice for young people in Suffolk. Courses, jobs, CV builder, apprenticeships, careers, money, free time, life, housing and health. A source of information at your finger tips
Apprenticeships – National apprenticeship website giving information on nationwide apprenticeships and matching service
Careers Advice at Abbeygate
Careers Education, Advice and Guidance (CEAG) is available at Abbeygate Sixth Form College to help you decide your next steps.
To book an appointment with a Careers Advisor please click on the link below:
email Careers AdvisorThe Careers Education, Advice & Guidance staff can help you with:
Applying to University
Planning Finance for University
Job Search
Apprenticeships
Making your CV stand out
Mock Interviews
Interview Skills
Resources to help you decide on your progression route
Gap Year advice
Gap Year
If you would prefer to gain some experience before going to University or entering full time employment taking a gap year is often a popular choice.
There are many opportunities and some ideas include:
Internships
Volunteering
Teaching abroad
Travelling
Joining an expedition
Gap Years are a great way to experience new cultures, make a contribution to society and gain a broader horizon of life – and you don't have to go abroad. You will learn valuable skills such as budgeting and prioritising, cultural understanding and teamwork, all of which will enhance your CV and University application.
Useful websites
Lattitude.org.uk - Global Volunteering
Gapwork.com - Jobs and Volunteering
Virtual Work Experience
Work experience gives students a realistic understanding of working in industry It builds confidence in our students to develop relationships and network with professionals to enhance their employability skills.
Physical and virtual work experience opportunities can open the eyes of students to discover a world of opportunities. We want to encourage our students to explore!
What is Virtual Work Experience?
Virtual work experience is the opportunity to gain an experience or encounter with an employer, away from the physical work place, instead using a device with a stable internet connection such as a laptop/computer/mobile phone/tablet. Virtual work experience opportunities allow employer engagement between participants working in organisations across the country and even the world. They are particularly relevant in these exceptional times as they have enabled young people to gain invaluable work experience to boost their CV and university applications despite coronavirus restrictions.
Find out more about virtual work experience (prospects.ac.uk)
Register and apply for opportunities
neaco (Take Your Place)
Take Your Place and the neaco project is delivered across East Anglia.
The aim of the project is to help young people from East Anglia with little or no experience of university to explore the world of higher education.
It is a programme of activities delivered to students by a Higher Education Champion (HEC's) based here at Abbeygate Sixth Form College.
What we can do for you:
If you live in an area that has been identified by the Government as having low rates of progression the Take Your Place project will provide you with a personalised service at NO personal cost to you or your families which includes;​
Helping you understand what Higher Education (HE) is and what it means for your future. ​
Give you access to resources, experiences and guidance that will encourage you to develop passions for your specific subjects (taster sessions).​
Put on trips to Universities ​
Raise awareness about the many different pathways to university and promoting the benefits including a higher paid salary than non-university learners. ​
Meetings to help overcome the barriers you may personally face accessing university.​
Dispel myths about university and student finance.​
To provide help and support on your academic pathway to succeed and UCAS application assistance.​
Provide parental advice if required
The Team
Higher Education Champion: Claire Palmer
On site: Every Thursday
Location: Careers Office in the Learning Resource Centre (LRC)
Abbeygate Sixth Form College Careers Programme
Gatsby Benchmarks