Abbeygate students create mural for town as part of crime and punishment art project
Back

This is the second mural to be unveiled by Abbeygate students
Teacher says 'next up, we want to work with Grayson Perry'
Students from Abbeygate Sixth Form College have been reflecting on their involvement in an art project based around the theme of crime and punishment.
Working with a number of industry partners and schools, the learners have helped create a mural that was unveiled today in Bury St Edmunds.
The group – who are all studying art at the Bury sixth form - visited Moyse's Hall earlier this year where they learnt about a number of high profile criminal cases.
Inspired by the visit, individuals went away to create their own concepts that have now been brought together to create a mural that will be on show for the public to see in Charter Square based in the arc shopping centre.
(Their work was also showcased during a fashion show and performance piece at the cathedral in Bury).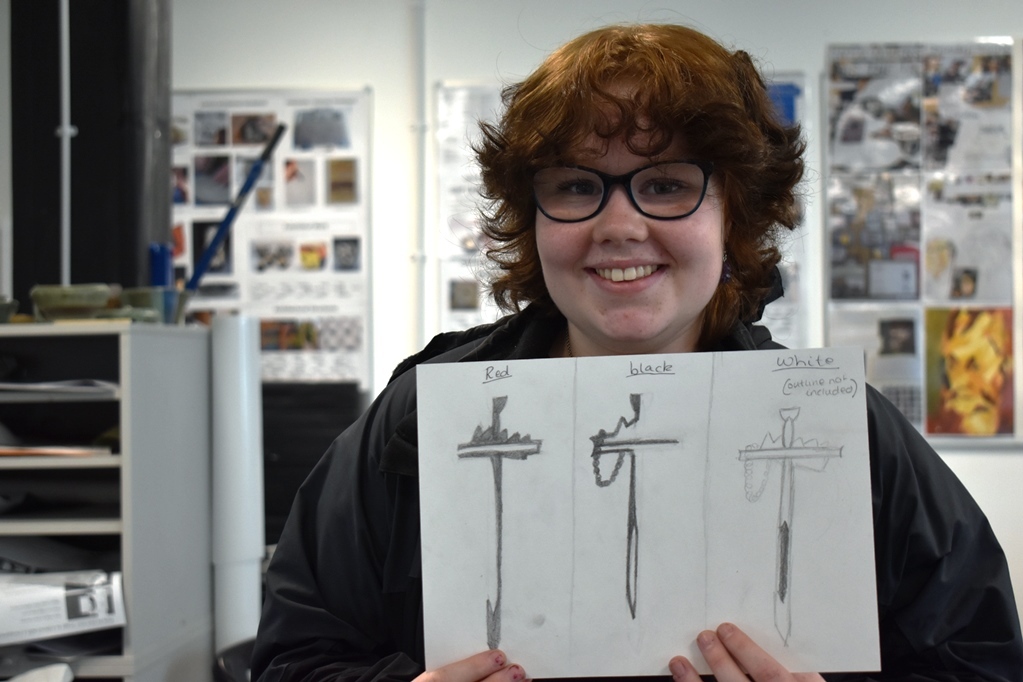 Lauren Wescomb
Lauren Wescomb, 17, from Stowmarket studies A-levels at ASFC and helped design the mural. Lauren said: "I was looking at the types of weapons that were used in medieval England and created a design based on this. It's been good and fun (working on the project). I think there will be loads of mixed reactions."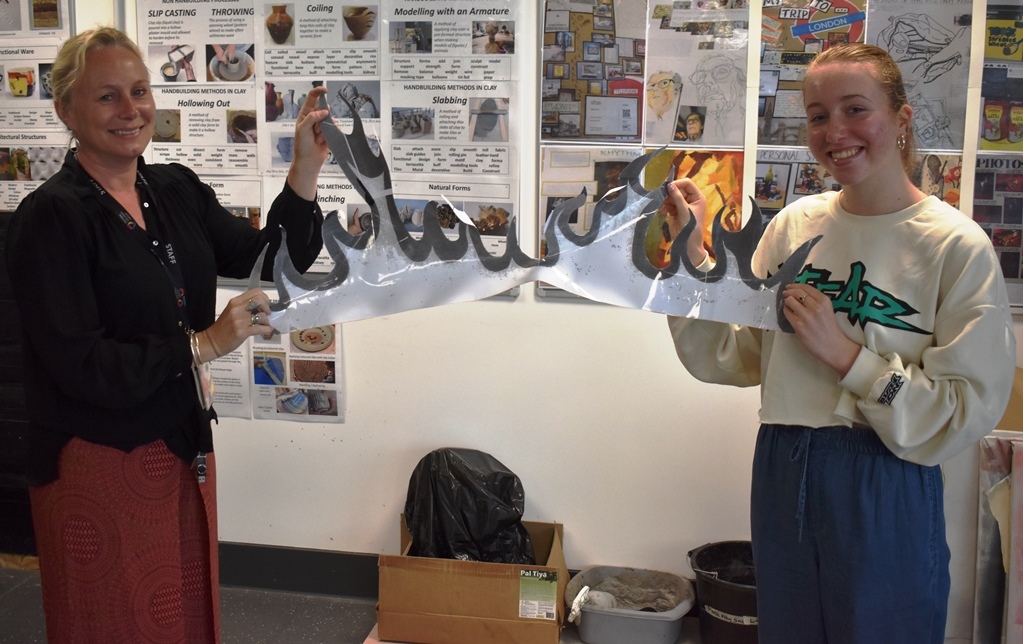 Lou Gridley and Izzy Woodward
Izzy Woodward, 17, Bury, studying A-levels in art, textiles and criminology. On her involvement, Izzy said: "What I'm studying (A-level wise) is perfect for this project. We initially made sketches at Moyse's hall and my contribution is a three layered sensor of flames and fire. I loved working together as part of a group as it makes it more fun. I live quite close to the mural so I will see it most days. Hopefully people will like it. It's nice to get your work out there and it's good that students are creating art for the town."
Lou Gridley is an arts practitioner, the project lead (for the crime and punishment collaboration) and a teacher of visual arts at Abbeygate Sixth Form College.
Lou said: "Last year we worked on the Abbey 1000 project. This year, in terms of Abbeygate, our textile learners have created wearable sculptures (outfits) that were worn and modelled during a student showcase held at the cathedral. They also created massive banners that were the backdrop to this show (at the cathedral) and then these banners have been digitally created and displayed in the arc. It has giving students an experience of outside of the classroom and has helped them see what life is like as a working artist.
"The banners (in the arc) will be up until October and who knows after that. The students have been really engaged and they are buzzing (to see their work on display).
"Next up, we want to try and work with Grayson Perry. Dream big and anything is possible is my motto."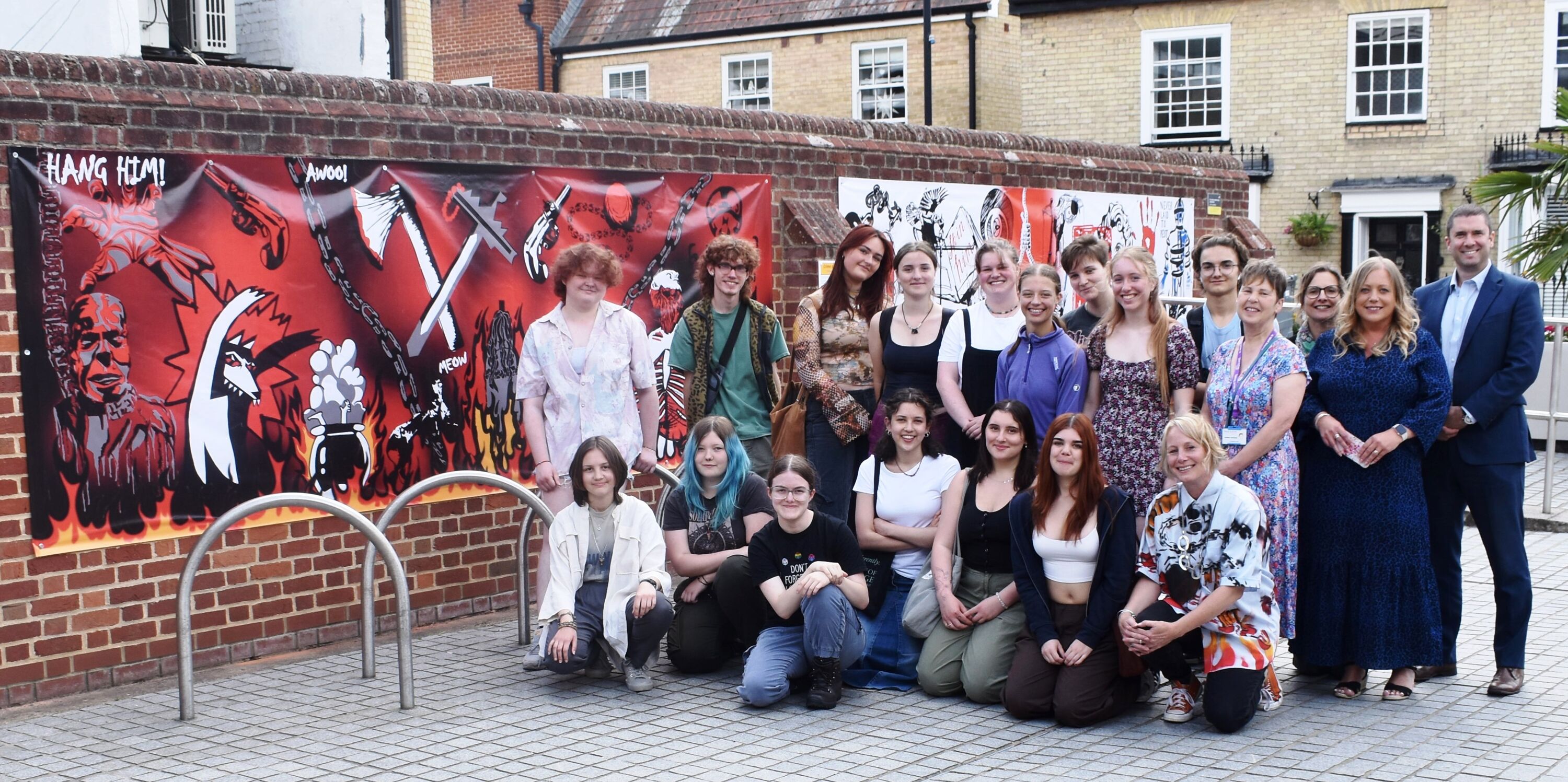 Staff, students and the council at the new mural
The project has been part-funded by West Suffolk Council's locality budget with additional in-kind support provided by Moyse's Hall Museum, Abbeygate Sixth Form College, CALSA, Magic Floor Productions, St Edmundsbury Cathedral and the arc Shopping Centre.
Last year – students unveiled another mural that currently resides outside the area where Top Shop used to reside.